"From businessman to prisoner."

"A businessman, a scientist, a father, a prisoner - and it's all about one person."

"How easy it is for a businessman to become a prisoner in Russia."

"Is everyone who is sitting guilty?!"

"Read the truth about Russia!!"

"A lawyer in Russia is a buffoon or a psychologist?"

"Is there no court and no justice in Russia?"

"How to protect yourself and your loved ones from torture in police and prison?"

"The Constitution and human rights in Russia??"

"How to achieve the fulfillment of the basic rights of citizens?"

"Real destinies of people and real events."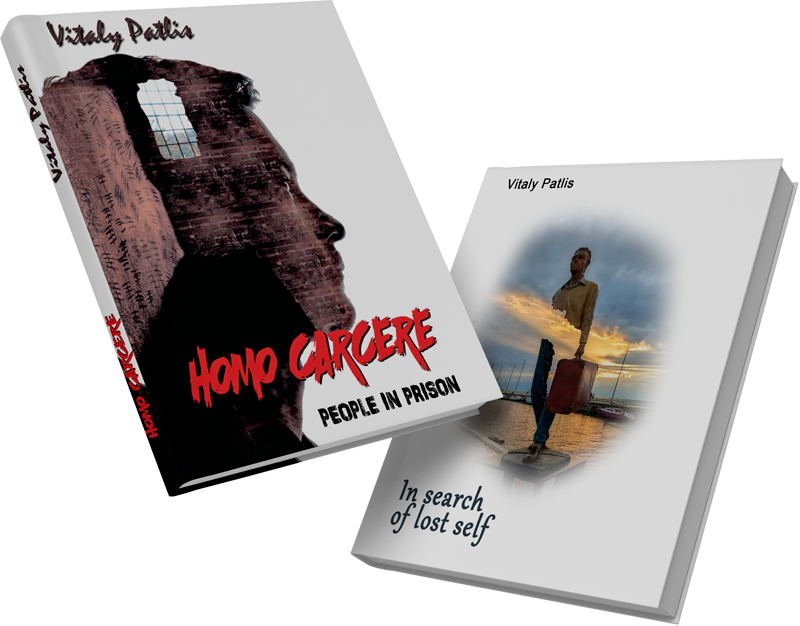 Start reading a book
and you won't be able to stop
"It could have been a movie script, but it's real life..."
Free trial version of the book
"After the second and fourth chapters, I lit a cigarette and cried (((
Although I don't smoke.."
Vitaly, I was dumbfounded... in shock... from what you've been through... You're alive! thank god! Just today I bought a full edition of the book, I can't tear myself away. Page 54 I'm crying my eyes out... Each page is a lively, sharp quote, punches to the brain.. I write it out in my notebook. It's a bomb!!! Mastering in love. Only love is the ultimate and supreme that justifies our existence here. Which gives us strength... Contemplation of his Lord. When I saw Eugene Proskurov on the pages of the book, I cried with happiness that God sent you such a friend. I recognized him right away. He has always been a bright ray. I have an internal radar for recognizing such people... Memories came flooding back crying. What a courageous person you are, getting into the millstones of the system and surviving is a gift! Fighting the system is stupid!!! Well, why didn't you read Kafka's "Process" earlier.. "we live in an age of absurdity.. I had to run , run away ... On your pages Vysotsky, Churchill, Dostoevsky, Chekhov. I put your name next to Patlis. I just read about your
Thanks to the author for letting me into my soul. A strong feeling that I personally spoke, well written. Complete immersion and numbness while reading. A persistent desire to wash and pretend that this does not concern me, but horror rolls over from the realization that it concerns everyone ...

I was still afraid of what would happen at the end of the book, it's scary to understand that this is not fiction, but a diary (thanks for the wonderful far away!
In the book you told about the fate of many people, yes...But your story and life are like a revelation, sometimes like a confession... It's hard not to notice. There are very intimate things that you freely open. It speaks about your confidence in life. Reading your book, many will reflect on their actions.. about faith, love, freedom, betrayal..and the meaning of life. Nowadays, no one is immune from prison, in Belarus they can be imprisoned for their word of honor. Everyone can get into your place, so the book is a good guide, opening the curtain of a completely unknown life to us how to behave in such extreme conditions as you can survive... I liked that you are referring to childhood, your memories of a bygone era, school, teachers... a picture emerges of a little offended boy deprived of parental love, but you leave all the grievances in the past, no matter what you love and respect your parents, remember your friends. I bring a parallel of our lives and find a lot in common...
Real Russia in our time .. loss of business at the hands of corruption. Respect and respect for your daughter, Vitalik! I don't know why, but friends are the first envious people, however, like family members. Take care of your daughter and yourself ... you are the best
The story told in the novel is sometimes creepy and makes you think very hard. It is read in one breath - the collisions of confrontation with the system on the example of a really taken fate make you sincerely empathize with the main character. A modern, daring, for good "evil" novel about the past and the future, about friendship and betrayal, about a new emerging system of social control based on social terror and quasi-ideology. From a creative point of view - everything is only in superlatives. Strongly recommended for people who have retained critical thinking.
Not a fan of books, but when I received the link, I understood that it would be a real story of a person whom I had a chance to meet in real life, it's a pity that it was within the framework of a criminal case. Until recently, he believed that there would be either an acquittal or a maximum suspended sentence, since he himself was familiar with the circumstances on which the prosecution was based.

It is a pity that people who try to honestly and conscientiously build their lives get into the millstones, but when financial interests intersect with those in power, most often the outcome is a foregone conclusion.

An interesting book, it turned out to convey the emotional component very well. Vitaly, thank you!
A good book should evoke emotions, no matter what, good or bad. This book evokes a lot of feelings!!! Definitely recommend!!! Already advised many of my friends.
Caution, after reading, you will want to immediately pack your bags. The book describes the living emotions of a man who has been cornered by the realities of modern Russia. The brain is trying hard to convince you that everything is good, but not so bad, and all your difficulties are just the fault of the person himself. Work, work, live, strive... But reason and experience say otherwise! "Look, you are not the only one, not only you have different situations in your difficult life, apparently, the guardian angels saved you more than the hero. Be careful, think what you say and what you do, calculate the steps. Beware! Only one thought in my head… what next?! And can you become this part of the system? And what awaits your child here? The answer is obvious!
#power and society #corruption #samizdat #human destiny
«Homo Carcere "People in prison"»
A new book by Vitaly Patlis is already on sale!

Volume: 240 pages.
Date of writing:2022
Genre: Modern detectives, Thrillers

Price: 8.46 €
Annotation
Russia. The year is 2021. An ordinary honest entrepreneur at a municipal tender defeated the "pocket" office of the head of the Moscow district administration. A werewolf official decides to deal with a businessman, and for one thing remove competitors to his chair – his deputy, in order to continue "sawing" the budget by handing out overpriced contracts to his firms that are unnecessary to the city. An enterprising hard worker, a single father becomes a bargaining chip in a vile struggle for power and money. A typical civil dispute with the filing of "from above" turns into a "criminal case" and a suffocating sentence - 3 years in a general regime colony. This is a vivid story about personalities with large and small letters, about honor and evil spirits. About freedom in non-freedom and the confrontation of a Person with the System. It can happen to everyone again, but everyone's job is to be ready for everything and always. Based on real events. The names of the characters have been changed.
#power and society #corruption #samizdat #human destiny
A new book by Vitaly Patlis is on sale soon.

Date of writing: 2023
Genre: Modern detectives, Thrillers

Price: 8.46 €
Annotation

The fact that the first book ends with the words "I begin the path" is certainly not an accident. There are several meanings hidden in this phrase at once. And the fact that a completely new stage in life really begins in our hero's life, and the fact that it's never too late to radically change your way of life, and the fact that it's time to share new thoughts, new reflections and, at the same time, turn back to the past, to what for what- the reasons could not be told earlier.

In the second book, the reader will continue the story of a "simple" entrepreneur, his author's view of local and global events both in the life of a single person and on a global scale. The exclusive theory of "Homo carcere" will also be developed and supplemented, which has already proved its right to exist, perfectly predicting future changes. The continuation will not do without autobiographical memories, as well as the real stories of some familiar "colleagues"; those very stories, after reading which a lot in e
Patlis Vitaly Valentinovich
Vitaly Valentinovich Patlis was born on May 13, 1975 and grew up in the Belarusian city of Grodno, on the border with Poland. He graduated from high school there and received his first higher education in the specialty "History, Philosophy, Social and Humanitarian Disciplines and English" (Here was a versatile education !!!) At the same time, while studying at the university, he played in the local STEM humor theater "Vernissage".


After 4 years of teaching practice at gymnasium No. 1 in Grodno, in the "dashing" 90s he goes into commerce, where he successfully climbs the career ladder from a manager to a commercial director of one of the large companies multidisciplinary activity "Exclusive". Further, the career of the general director at various firms and later large city-forming plants such as, for example, JSC "Polimiz" in the city of Borisov. All these companies were delivered with unprofitable and problematic inheritance, and Vitaly Patlis solved these issues quickly and systematically brought the enterprises into profit. Success and a competent approach to business were noticed even in that Belarus, and Vitaly Valentinovich was a member of the public council for the development of small and medium-sized businesses under the Presidential Administration of the Republic of Belarus. But, unfortunately, not a single developed progressive bill was signed by A. Lukashenko. The topic of the scientific dissertation "Financial support for startups and their incorporation into a business unit" gave a new impetus to activity and Vitaly Patlis began to work actively as a startup mentor at the Institute of Entrepreneurship and Management, and also became a member of the jury of the republican startup competition.


In 2016, he was invited by the Ananniev brothers (well-known billionaires who now live in London, and then still the owners of PromSvyazBank - one of the five largest banks in Russia) to the position of Deputy General Director in "First Chemical Corporation" to manage all non-core assets of the bank (at that time it was 47 large plants in the Russian Federation). After the nationalization of the bank and the forced flight of the owners, he actually remained unemployed, since all enterprises were quickly sold out. And here the topic of the dissertation was more than ever relevant, in five years Vitaliy Patlis created and launched more than 5 successful projects in landscape, landscaping, construction, architectural lighting, sales of Christmas trees and fir, etc. Projects developed, business grew, it seems to live and rejoice, but this is mother Russia, the FSB rows everything for itself, Putin's "unicorns" select everything for themselves. This is how two firms "crossed swords" at one of the state tenders, one of which was the owner of Vitaly Patlis. Further, civil-law relations suddenly turned from the filing of a "prosecutor-werewolf" into a criminal case. Further, a single father is thrown into prison, and a minor daughter is forced to live alone in a large metropolis.